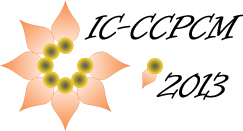 30 June – 5 July, 2013, Moscow, Russia
IV INTERNATIONAL
CONFERENCE ON COLLOID CHEMISTRY
AND PHYSICOCHEMICAL MECHANICS
The development of modern views on micelles and micelle systems
The term «micelle» (from Latin mica «crumb») was introduced in 1858 by Karl Wilhelm Nägeli, a German botanist, in the course of describing the cellulose swelling in water. However, Nägeli's understanding of the term was quite different from the modern one.

In today's sense, the concept of the micelle was introduced by James William McBain, an English scientist, at the discussion published in 1913—that is, one hundred years ago—in the Transactions of the Faraday Society. McBain's micelles were particles formed by association of diphilic ions of soaps (surfactants) in aqueous environment. This approach allowed McBain to interpret the data on anomalous electric conductivity of water solutions of sodium palmitate.

Up to the 1930s, McBain's concept of micelles was perceived without much enthusiasm. Its common acceptance has been largely due to the works of G. S. Hartley who gave a first detailed model of micelle of ionic surfactant.

Today, self-organizing surfactant-based systems, including micelles, are of enduring interest, both fundamental and practical. Such interest stems from the unique capacity of these thermodynamically stable systems to incorporate other substances (namely, ferments and other catalysts, drugs, biologically active substances, contaminants, etc.) to deliver specialized properties. This makes micelles demanded in all the spheres of human activity.


References
J. W. McBain et al. Colloids and their viscosity : Discussion // Faraday Society : Transactions. 1913. V. 9. P. 99–107.
G. S. Hartley. Aqueous solutions of paraffin chain salts. Paris, 1936.
The Secretariat of the Conference

Mr. Fyodor Kulikov-Kostyushko (executive secretary)

Faculty of Chemistry, Lomonosov Moscow State University
Tel.: +7 (495) 939-26-31
Email: exec@icc2013.ru


You may contact the Conference Secretariat on all issues, and particularly on issues regarding scientific content of the Conference (scientific program, abstracts submission, deadlines and timetable, special conditions of participation, etc.), and about humanitarian visas.

The Service Agent of the Conference

Mr. Vladimir Andrianov (project manager)

MONOMAX CONGRESSES & INCENTIVES
Tel.: +7 (495) 726-51-35
Email: icc2013@onlinereg.ru

Our Service Agent should be contacted on such matters as participation in the exhibition, sponsorship and partnership, technical issues with payments, visa support (tourist visas only), and extra services (hotel accommodation, transfers, social program, etc.).

Official services agent
MONOMAX CONGRESSES & INCENTIVES

Professional congress organizer
© 1998-2013: IC-CCPCM 2013